Buzz
We're kind of a medium-sized deal.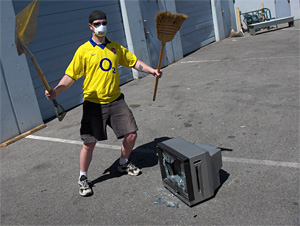 Smash Co.
The Internet
YouTube
Our content has had the most success on YouTube racking up over 15 million total views. Mac Spoofed: Performance & Beside the Music: The Roadies both snagged front page YouTube features back when YouTube used to do front page features.
The Ploy Podcast
In February 27, 2007 we were interviewed for a very special Episode #47 of Australia's podcast The Ploy. We had a good time, well we must have because you hear James breathing very heavy.
Television
Torrent
We have appeared on G4TechTV's podcasting show Torrent twice. Our first appearence was in the Episode 21 September 2006 where they showed a couple of our Mac Spoofs. Our second appearance was after their series rebooted on Season 2: Episode 12 at the end of November 2007. This time aroud there was an on-camera interview with The Crew and several sketches including Hitler Moustache and Saddest Little Hooker in the World.
Online Nation
This was a "best of the web" type show for the CW. Our sketch Mac Spoofed: Performance was featured on the premire episode of this short lived television program. More people have actually seen our sketch than all the episodes of Online Nation combined.
Print
Who
The Australian publication called Who featured us in their February 26, 2007 edition.